Wiki Renovation!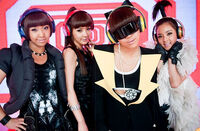 This Wiki is currently going under mass-renovation in order to upgrade the quality of the site's content and presentation. If you would like to provide any feedback or suggestions, please contact admin Lenhi. I hope you enjoy the new and improved 2NE1 Wiki.
Released
February 27, 2014
Length
00:35:06
Producers
Teddy, Yang Hyun Suk, e.knock
Label
YG Entertainment
Discography
From To Anyone
To Anyone is the debut studio album of South Korean girl group 2NE1. The album was released on September 9, 2010, by YG Entertainment and CJ E&M Music. 2NE1 worked with YG Entertainment CEO Yang Hyun Suk, Teddy, and e.knock to produce the album. Musically, the album is classified as pop, with elements of R&B, dance, and hip hop.
The album received mostly mixed reception. While the album was praised for its top production quality, complaints were often made about the overuse of either vocoders or the auto-tune software. To Anyone debuted at number one on the weekly Gaon Albums Chart, and gained the number one on the monthly chart. In total, the album has sold over 150,000 copies.[1][2][3]
Nine singles in total have been released or promoted from the album. The reggae remix of "I Don't Care" was the first single. Member Dara's solo song "Kiss" (featuring leader CL) was released next, with Bom's solo "You and I" following. CL and youngest member Minzy released their duet "Please Don't Go" as the fourth single. The group reunited for "Try to Follow Me" and earned the top spot on the Gaon Chart. "Clap Your Hands", "Go Away", and "Can't Nobody" were all released on September 9, 2010, as lead singles, and were followed by "It Hurts (Slow)".
References